DINO BERTINI

, D.M.D, M.M.Sc.
---
---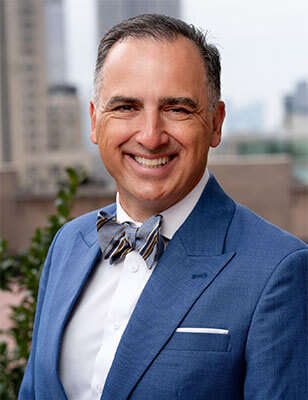 ---
Dr. Bertini, one of only several hundred maxillofacial prosthodontists in the country, has been practicing dentistry since 1996. In 2006, he co-founded Manhattan Prosthetic Dentistry with Dr. Sobel.
Dr. Bertini graduated from Harvard School of Dental Medicine in 1997, which he followed up with a certificate in prosthodontics in 1999, also from Harvard. Until 2000, he was a fellow in maxillofacial prosthetic dentistry at the Memorial Sloan Kettering Cancer Center. As a reflection of his commitment to educating future generations of dentists, Dr. Bertini has served as a lecturer, clinical instructor and assistant professor at the Harvard School of Dental Medicine and at the New York University College of Dentistry, in addition to presenting at conferences.
Dr. Bertini's expertise and proficiency in multiple languages, including French, Spanish and Arabic, has drawn patients from all over the world, including France, South America and China. He is honored to treat one of his former professors and mentors.
Dr. Bertini has received awards from the American Academy of Dental Practice Administration, the American Academy of General Dentistry, the American College of Prosthodontists, Harvard University and New York University. He is a member of the American Dental Association, the New York State Dental Society, the New York County Dental Society, the Alpha Omega Dental Fraternity and the New York University Honor Society of Chemistry.
Outside of the office, Dr. Bertini enjoys snowboarding and kite surfing around the world. Most of all, he loves sharing his travels and adventures with his two children.
---
---
Visit Dr. Bertini's Review Sites
---
212-399-3466

Call today to request an appointment.
Location

630 Fifth Avenue, Suite 1854
New York, NY 10111
Directions
Request Appointment

Fill out our online form.
Click Here